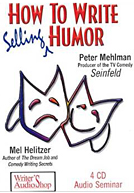 How To Write Selling Humor
Peter Mehlman & Mel Helitzer
4 CDs: 3 hours total
ISBN 1880717-611
Price: $49.95
[Download this title from Audible.com]
[Order this title from Amazon.com]
People Will Remember Your Writing If You Use Humor
Humor is ignored and misunderstood in writing. But learning to use humor will improve your writing and your bottom line. Here are two complementary workshops from experts who can help you ride the comedy wave to successful humor writing.
This CD title includes two workshops:
Writing Seinfeld-Style

"Entertaining and informative…" ~ Billboard Magazine
"Funny and insightful…" ~ Nothing (Newsletter for Seinfeld Fans)

What was Seinfeld all about? Hear producer and writer Peter Mehlman's take on that (no moral lessons, lie and scheme shamelessly, & lust, lust lust) in this 90-minute workshop recording. Learn the secrets of a good episode and how Jerry Seinfeld, the star, and Larry David, the co-creator, assembled one of the most successful and long-running (1989-1998) television comedy series ever broadcast.

PETER MEHLMAN was a writer and held various producer titles during the heyday of Seinfeld. Mehlman's produced scripts include "The Nose Job," "The Implant," and "The Smelly Car." He went on to executive produce "It's Like, You Know" and "The Father of the Pride."

How to Write Humor
Top comedy writer and professor of humor Mel Helitzer presents a 90-minute workshop on the basics of how to make humor work for you, whether you're writing humor, using it in business or just want to make a point with a punchline. Learn the theory of humor and its six ingredients, how to use "reverses" and "triples," the 10 kinds of jokes and how to handle jokes that are based on sex.

MEL HELITZER taught humor at the Scripps School of Journalism at Ohio University. He has written award-winning commercials, humor for newspapers and magazines and material for many professional entertainers. Legendary comedians Carl Reiner and Steve Allen have endorsed Helitzer's work.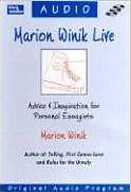 Marion Winik Live: Advice & Inspiration for Personal Essayists
Marion Winik
3 CDs: 3 hours total
ISBN 9781880717-462
Price: $21.95
[Download this title from Audible.com]
[Order this title from Amazon.com]
OR
2 Cassettes: 3 hours total
ISBN 9781880717-448
Price: $18.95
[Order this title from Amazon.com]
Author and essayist MARION WINIK teaches a workshop on her craft, with an excellent section, in detail, on how to write humor. Also includes a talk on the Ethics of Self-Exposure and her reading of eight of her finished essays.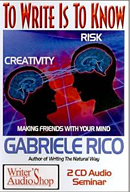 To Write Is To Know: Making Friends With Your Mind
Gabriele Rico
2 CDS: 2 hours total
ISBN 9781880717-585
Price: $19.95
[Download this title from Audible.com]
[Order this title from Amazon.com]
OR
2 cassettes: 2 hours total
ISBN 9781880717-295
Price: $17.95
[Order this title from Amazon.com]
Pioneer of "clustering" and author of Writing the Natural Way, GABRIELE RICO offers writing as a way to discover who you are and what you think. Full of exercises and techniques; hear what audience members wrote; science of chaos discussed.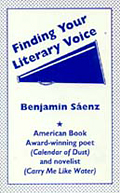 Finding Your Literary Voice
Benjamin Alire Saenz
1 Cassette: 90 minutes
ISBN 9781880717-356
Price: $12.95
[Order this title from Amazon.com]
Chicano writer examines the importance of language and who you are as a person to the voice you choose as a writer. "Assume people don't care; make them care with language," says Saenz.
BENJAMIN ALIRE SAENZ is one of the country's most important Hispanic writers. He is a children's book author (Sammy and Juliana in Hollywood), novelist (Carry Me Like Water), and an American Book Award-winning poet (Calendar of Dust). His first calling as a priest led him to study writing in Paris and California. He now teaches in the bilingual MFA program at the University of Texas at El Paso.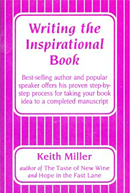 Writing the Inspirational Book
Keith Miller
1 Cassette: 90 minutes
ISBN 9781880717-127
Price: $12.95
[Download this title from Audible.com]
[Order this title from Amazon.com]
The Christian book market is large and growing. Best-selling author Keith Miller takes you through a proven, step-by-step process to turn book ideas into a completed manuscript. He includes how to come up with a working title and table of contents, how to choose your audience, how to gather material, and how to write and rewrite. He also offers practical, encouraging advice on how to approach your writing, and an expert analysis of what to look for in book contracts.
KEITH MILLER wrote The Taste of New Wine, which sold in the millions, and has written more than a dozen other books. He also has produced video and audio instructional packages for the inspirational market. His undergraduate degree is in business, and he has graduate degrees in psychology and theology. He travels the world to speak at churches, colleges and seminaries and has keynoted many national conferences.