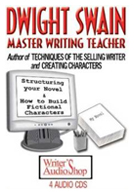 Dwight Swain:
Master Writing Teacher
Dwight Swain
4 CDs: 2 hours and 59 minutes total
ISBN 9781880717-486
Price: $39.95
[Download this title from Audible.com]
[Order this title from Amazon.com]
This CD title includes two workshops.
Here are two workshops by one of the best writing teachers in the English language. Dwight Swain has mentored thousands of writers. Now you can hear this legendary teacher's own voice with priceless advice on 1) Story Structure & 2) Building Strong Characters.
Structuring Your Novel
A step-by-step guide to writing stories you can sell. Learn how to:
Conceive and cast your work
Find the spine
Drive the plot forward
Use scene and sequel as building blocks
Create conflict
Use the springboard scene
And much, much more!
How to Build Fictional Characters
Learn how to:
Create memorable heroes and villains
Make your characters likeable
Give your characters purpose
Put story people in danger
Discover a character's attitude and motivation
DWIGHT SWAIN is author of Techniques of the Selling Writer, published in 1965, which many still consider to be THE BEST EVER reference work for creative writers. During his lifetime, he was a recognized international authority on fiction writing and is still revered. At major writing conferences, hundreds attended his sessions to hear his advice, handed out with dry wit and common sense. He wrote more than 50 genre and mainstream novels, and also magazine articles and screenplays. He was professor emeritus at the University of Oklahoma.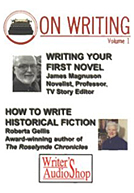 On Writing: Volume 1
James Magnuson &
Roberta Gellis
4 CDs: 2 hours 57 minutes total
ISBN 9781880717-530
Price: $39.95
[Download this title from Audible.com]
[Order this title from Amazon.com]
This CD title includes two workshops:
Writing Your First Novel.
Learn how to write The Great American Novel from veteran novelist James Magnuson. Topics include how to:
Use autobiographical material
Complete your manuscript
Find the spine of your novel
Handle rewrites
Keep your vision
Avoid common pitfalls
JAMES MAGNUSON has written seven novels for major publishers, including Windfall and Ghost Dancing. He has worked as a TV story editor and screenwriter. He is Director of the Michener Center for Writers at the University of Texas at Austin. He was playwright in resident at Princeton University.
How to Write Historical Fiction

Listening to Roberta Gellis is a privilege. Her no-nonsense approach to writing historical fiction will answer questions you didn't know you had and keep you on track with your own manuscript. Topics include how to:
Carry out useful research
Pin down a historical period
Discover how historical people lived and felt
Pick a key event
Create believable characters
ROBERTA GELLIS is respected and successful. Since 1964, she has published dozens of meticulously-researched historical novels, including the famed Roselynde Chronicles. She received Romance Writers of America's Lifetime Achievement Award.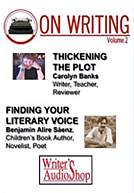 On Writing: Volume 2
Carolyn Banks &
Benjamin Alire Saenz
4 CDs: 2 hours 58 minutes total
ISBN 9781880717-547
Price: $39.95
[Download this title from LearnOutLoud]
[Order this title from Amazon.com]
This CD title includes two workshops:
Thickening The Plot
Pay attention to plot, says Carolyn Banks, and reap the rewards. A good plot outline can be used in a book proposal and as a safety net for you, the writer. Topics include how to develop your plot, use resolution and suspense, differentiate concept from plot, and create dramatic impact.

CAROLYN BANKS writes novels (Patchwork), mysteries (Death by Dressage), short stories, screenplays, erotica and book reviews. "I don't want to be put in a little category," she says. Her M.A. in Creative Writing is from the University of Maryland, and she has taught literature and writing at the college level.

Finding Your Literary Voice
Benjamin Alire Saenz examines the importance of language and who you are as a person to the voice you choose as a writer. "Assume people don't care; make them care with language," he says. Topics include how to aim for the emotional truth, use specific language, analyze and select your words, and achieve mystery, clarity, and immediacy.

BENJAMIN ALIRE SAENZ is one of the country's most important Hispanic writers. He is a children's book author (Sammy and Juliana in Hollywood), novelist (Carry Me Like Water), and an American Book Award-winning poet (Calendar of Dust). His first calling as a priest led him to study writing in Paris and California. He now teaches in the bilingual MFA program at the University of Texas at El Paso.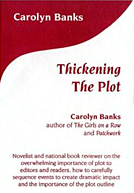 Thickening the Plot
Carolyn Banks
1 Cassette: 90 minutes
ISBN 9781880717-035
Price: $12.95
[Order Now]
Novelist and national book reviewer focuses on strengthening plotting skills. Covers how to develop plot by creating concrete events that are carefully sequenced to create dramatic impact and how to develop a plot outline and use it as a selling tool and writing guide.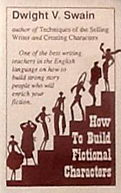 How To Build Fictional Characters
Dwight Swain
1 Cassette: 90 minutes
ISBN 9781880717-264
Price: $12.95
[Order Now]
Internationally acclaimed fiction expert tells how to create story people, how to make them likable and give them purpose, the importance of danger, attitude and motivation, caring for your characters and how to create a good villain.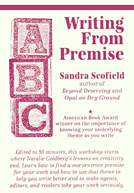 Writing From Premise
Sandra Scofield
1 Cassette: 90 minutes
ISBN 9781880717-349
Price: $12.95
[Order this title from Amazon.com]
American Book Award winner begins where Natalie Goldberg's lessons on creativity end. Learn how to find a one-sentence premise for your work to make you write better and to make agents, editors and readers take your work seriously.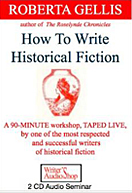 How to Write Historical Fiction
Roberta Gellis
2 CDs: 90 minutes
ISBN: 9781880717783
Price: $14.95
[Order this title from Amazon.com]
One of the decade's most respected writers of this genre details the types of historical fiction, and gives the basics of research to enable you to make the setting authentic, pin down the period, pick the key event and get the details on how people lived and felt at the time.