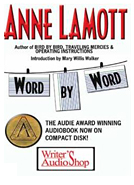 Word by Word
Anne Lamott
3 CDs: 2 hours 40 minutes total
ISBN 9781880717-578
Price: $29.95
[Download this title at Audible.com]
[Order this title from Amazon.com]
1997 Audie Award winner for country's Best Educational/How-to/Instructional Audiobook.
Provocative and witty, Lamott takes you beyond her book Bird by Bird. Good writing, she says, slows you down, opens your heart and arrives through your fingers, knowing what it's about. Learn how to keep things simple and how to write honestly about family and friends as you listen to this inspiring live performance.
WORD BY WORD is the audio equivalent of a heart-to-heart talk with the charismatic Lamott, as she guides and pokes fun at writers and the writing life. "If you like her in print," says Elaine Davenport, Writer's AudioShop publisher, "you'll like her in person, too. Anne says that she goes through at least four drafts before she can get down on paper what's in her head. When she speaks, her humor, honesty and intelligence just come pouring out."
ANNE LAMOTT is the widely-acclaimed author of Bird by Bird: Some Instructions on Writing and Life; Traveling Mercies: Some Thoughts on Faith; Operating Instructions: A Journal of my Son's First Year; Plan B: Further Thoughts on Faith; Grace (Eventually): Thoughts on Faith; Hard Laughter; Rosie; and Joe Jones. She is no stranger to The New York Times and Publishers Weekly bestseller lists.
Reviews
"Anne Lamott's workshop puts funny pictures and bright candles in that solitary room we all inhabit as writers." ~ Marion Winik, author of First Comes Love and Telling

"… A writing guru … with healthy, self-depreciating humor. Also, there's a good amount of practical advice on daily writing routines, developing an ear for dialogue, submitting manuscripts, etc." ~ Publishers Weekly

"… She shares invaluable nuggets of wisdom about writing and the writing life." ~ AudioFile Magazine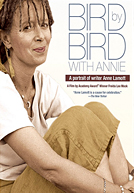 Bird by Bird with Annie
A Film Portrait of Writer Anne Lamott
Director, Producer and Writer: Freida Lee Mock
40-minute DVD
Price: $26.95
[Order this title from Amazon.com]
BIRD BY BIRD WITH ANNIE is a portrait of the best-selling author and laugh-out-loud funny humorist Anne Lamott (Bird by Bird, Operating Instructions, Crooked Little Heart). It is the moving story of a survivor, a recovering addict and alcoholic and a single mother who is both a born-again Christian and a liberal activist. The film, a year in the life of the writer, focuses on her gift at demystifying the creative process, the people that inform her life and writing, and the beauty of language and the written arts. It touches upon concerns of universal interest: loss, alienation, loneliness, faith, the meaning of life and the perhaps less weighty concerns of unfirm thighs, difficult hair and retail therapy. Annie likes to pass on the "secret of life" that she found written on a computer terminal bearing a picture of Koko the gorilla: "The law of the American jungle: Remain calm and share your bananas."
FREIDA LEE MOCK is an Academy- and Emmy Award-winning filmmaker who directed, wrote and produced the Oscar-winning documentary feature film "Maya Lin: A Strong Clear Vision." Mock has directed numerous films on the arts and humanities, specializing in portrait films. She heard Lamott speak at a writers' conference and was captivated by her ideas, humor and charismatic way of speaking.