Welcome to the Writer's AudioShop, the Audie Award-winning audiobook publisher. Enjoy your visit.
How-To Information for Writers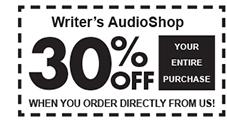 Founded in 1985, the Writer's AudioShop publishes live recordings of the country's top writers, literary agents and editors teaching the ABCs (art, business and craft) of writing. The recordings provide information and inspiration, and expand the oral history of literature.
We also offer Texana & Folklore titles and a limited number of Science Fiction & Fantasy titles.
The List—Our Title Categories
Each category contains a list of audio and/or video titles.
A Writer Writes
SOME GENERAL NOTES ON DIALOGUE
by Carolyn Banks
WRITER, KNOW THYSELF
by Sandra Scofield
Memo from the Publisher
Thank you for finding us.
Most of our titles are recorded at seminars sponsored by the Writers' League of Texas, a non-profit support for writers and would-be writers. With 1,000 members, the League is one of the U.S.'s largest regional writers' groups. My hat is permanently off to League staff and volunteers who work incredibly hard to support and nurture the literary arts.
Please e-mail suggestions of the how-to information for writers you would like to see on this site.
Good writing,
Elaine Davenport
Publisher

MEMBER
Audio Publishers Association